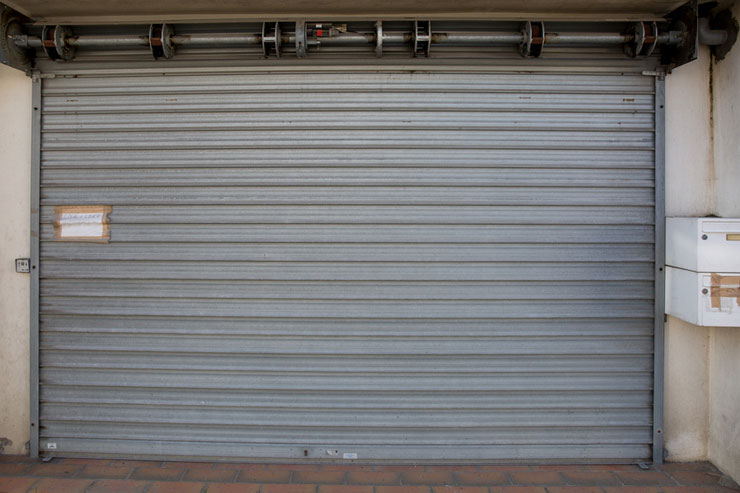 Shop Front Gate Repair Bronx NY
There amount of storefront gates in New York is endless. You can find solid roll up gates, see-through rolling doors, roll down gate door, and more. One of the reason why store front gates are so popular is the fact that they provide security and protection, and at the same time they are reliable, and barely take any space from the store itself, since when they are open, they roll up into a big steel roll.  There are many different steel storefront rolling doors and rollup doors in Bronx New York. You can find rolling steel storefront gates, see-through gates, solid gates, roll down gates and more. The best part is that you just found the company that can repair all of them!
BQE Garage Doors of the Bronx can supply repair and install any steel storefront gate in Bronx NY. If you own a store, in which there is a roll up door installed, and you are using steel storefront rolling door to lock you store at the end of the day, you probably know how important it is to have a gate that operate in a smooth way. There are many different types of storefront gates and storefront doors in NYC, and they can be used for different purposes, but all steel storefront doors in Bronx have one thing in common: they all need to be strong, reliable, and to work whenever you need to open or close your store. It can be storefront roll down gate, Roll up door in the Bronx, or steel storefront roll door in Yonkers, BQE Garage Doors can fix, repair, install, maintain and service all types of steel storefront roll up doors in Bronx NY.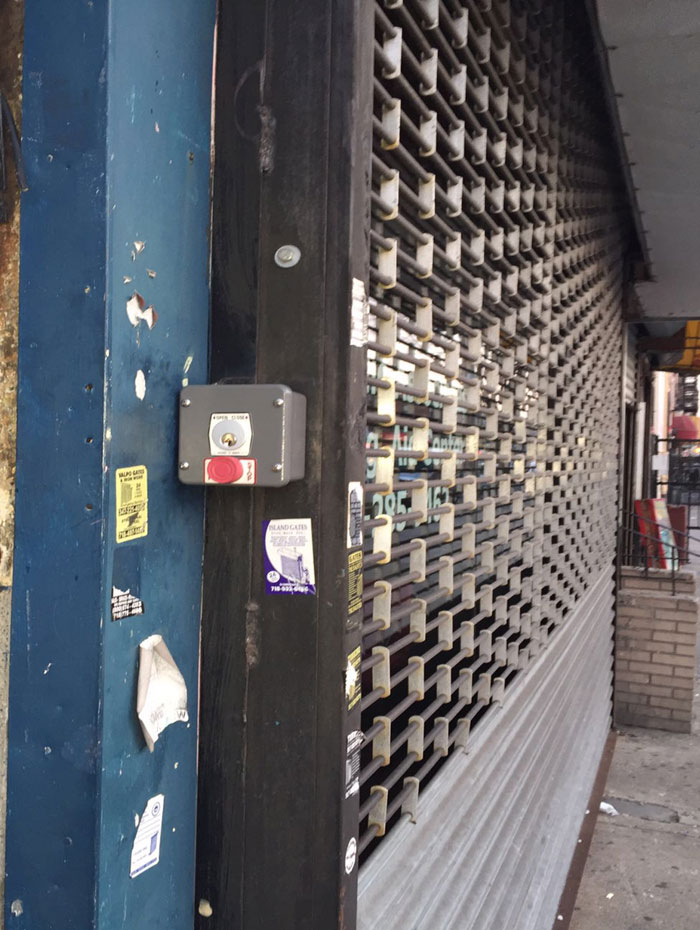 Which storefront door is the best gate?
There are various steel storefront doors in Bronx NY. Many business owners need their gate to be steady, unbreakable, and to provide security to the shop. Some want their steel storefront door to be as see-through as possible, and that even during the hours when the shop is closed, people will still be able to see into the store (See through storefront gate). Some need their steel storefront roll down gate in Bronx to function automatically, and want to have the ability to use the gate remotely, and some choose to operate the gate manually, since they only use it once per day, and sometime even less.
In case you are wondering which steel storefront gate to install, we are here to help you with years of expertise and endless knowledge about the steel storefront gates repair and installation in Bronx. To us, as a professional company with skilled Steel Gate technicians, it won't make a difference if you need a new steel storefront gate installation in Mount Vernon, or maintenance for an existing metal gate, we can deliver any kind of service, whether it is a storefront gate, an industrial overhead door repair, or any other kind of commercial garage door in the Bronx NY.
Storefront door technician
A lot of shop owners in New York who face a problem with their metal storefront gate in Bronx, wonder who they need to get in touch with to get the steel storefront gate repaired. Do they need to contact a local locksmith? Do they need to call local electrician? Can the local handyman can do the job? Do they need welder who do Iron Works in New York? So we would like to answer, and to inform you that you just found the solution to any problem, because BQE Garage Doors can fix all of them. No project is too complicated or too simple for the technicians of BQE Garage Doors, and we have the knowledge to deal with any kind of service, because when you are a pro, the type of service shouldn't matter to you, and you should be ready to deal with any type of gate, and any kind of service.
Storefront roll down door installation Bronx NY
In case you chose to install a new steel storefront gate for your store in the Bronx, there are a few things you should know, and we will begin from the gate itself: There are several kinds of steel storefront gates, made from different materials, and which made to serve different purposes. And even 2 steel storefront gates in Bronx that could look identical to you, might not be the identical. The differences between two steel storefront roll doors that may look the same to you include many different elements that only a roll up gate pro can locate and solve.
The high quality gates we deliver and install is what made BQE Garage Doors to the best garage doors and gates company in Bronx since when you offer high quality roll doors and gates in Bronx, people can value it. We have successfully installed many storefront gates and we are always ready for more challenging projects. We fix all kinds of gates: industrial and residential, repair and installation, roll up and overhead, swing gate or sliding gate, garage door repair in White Plains, or anywhere else in New York.
Emergency Store Door Service in Bronx
BQE Garage Doors are ready to receive emergency service calls for both garage doors and storefront gates in The Bronx NY. Several times the steel storefront gate is the main entrance to the shop. So when the gate is jammed it can prevent you from having the ability to gain access to your shop, or it can prevent you from being able to secure your shop when you want to close the store. For those cases we provide 24-7 emergency storefront gate repairs in Bronx NY. It may be damaged steel storefront gate repair, broken roll up door, or garage door repair, No matter what the situation is, BQE Garage Doors can take care of it, with reasonable price ranges, speedy service, and most importantly : We always use of top quality materials.
Not once, the problem is relatively simple to solve, and a skilled roll up gate expert in NYC can fix it on the spot, and sometime the problem is complicated, and require materials that we may or may not carry with us. But regardless of what the case is, we will give you a temporary solution to the situation, like we often do when it comes to rolling-down gates repair in Bronx. We will close or open the steel storefront gate for you, secure the door, and order the parts. If you are located in Bronx this means that you are local to us, and BQE Garage Doors can most likely complete the service the same day.
The important part is to stay away from risks, and without a doubt do not try and fix your steel storefront gate in Bronx by doing it on your own. Store-front gates are heavy, and when they have nothing to support them they can very easily crush and break what bellow them. The smartest thing for you to do will be to call us As soon as possible for a same day storefront gate repair. You may own a store front gate in Harlem, or you may need shop entrance gate technician in Brooklyn, if you want the gate to be fixed ASAP, and with the lowest prices, do not try and "make" or "force" the gate to work, and get in touch with a local gate repairman.
Can I repair the store entrance gate by myself?
Store entrance gates, especially the commercial heavy duty store entrance steel gates that can be found in many locations in the Bronx, should be repaired by a qualified technician. This is not the place for a handyman or someone who isn't qualify attempts, or to try and hope for the best. To be able to fix steel store entrance gate, you need few things: You need the right tools for the job, you need knowledge in the gates field, and you need experience in fixing and installing store entrance gates near Bronx New York. The reason is that there are many different types of steel store entrance gates installed in different methods, and operate in different ways.
Broken, stuck or off tracks store entrance gate can be a dangerous work that require tools and knowledge that not everyone possess. And we have seen handymen and contractors who thought that they can repair steel store entrance gate, and ended injured or with serious injuries. We have tools and parts to repair any steel store entrance gate, whether it is a roll up door operator repair in Yonkers, or a store entrance door repair in NYC.
What to do when the store entrance door get stuck?
If the store entrance gate is stuck, off tracks, or you cannot open or close it, there is nothing much you can do except from calling a local expert to come and fix it. But at the same time, we suggest that you will stop trying to use the gate, before creating a bigger problem.
There are many possible reasons why your store entrance gate is not working. And it is impossible to determine what the cause is before coming to your store and inspecting the gate. But there is no need to worry, store entrance gates repairs and installation in Bronx is what we do, and we can fix your roll up door today.  The important thing is to not try and force the gate to open or to close. When store entrance gate is broken, there is one way to deal with it, and this way is to repair the problem. Using force, trying to open the door again and again will only make it worst.
We have repaired and installed many roll up gates in Bronx NY over the years, and rarely replaced a broken rolling gate, since most of them can be fixed. Sometime there are parts needed, but in most cases, the gate is repaired on the spot.
The maintenance of Store-entrance door
Perhaps you may never heard about it, therefore you may only find out about it when it will likely be too late, but if you own a rolling store entry gate, you need to maintain it, if you would like it to continue to work. You may surprise just how much improvement some greasing could make, and how a full steel store entrance gate maintenance can improve the way the steel store entrance gate function.
Despite the fact that the store entrance door or gate maintenance is a relatively easy task, when it comes to commercial roll up gates or industrial rolling gates, we do not suggest you to try and perform the maintenance by do-it-yourself. The commercial gates maintenance include other parts as well beside greasing, and only a skilled technician has the ability to locate problems, lose parts, or weak spring and address the issue before the steel shop entrance gate breaks.
As important as the rolling gate maintenance is maintenance cannot come instead of repair, in the event that the gate is damaged. If your steel store entrance gate in Bronx is broken, greasing it will not help. Many of us remember that their gate need to be maintained when it is too late, and the gate is completely stuck. If you are experiencing issues using your steel store entrance gate, call BQE Garage Doors to come and fix it for you. Once the repair will be completed, the gate technician will be able to move forward and perform a maintenance for the gate. Greasing the gate often makes it easier for use, but it is matter of days before the problem occur again. You may own a store in Harlem New York, or you may need to fix steel gate in Woodland Hills, use a local expert for the repair, and have you gate working again on the safe side today.
What is the cost of gate repair?
We realize that everybody want to save money, and would like to spend as less as they possibly can on repairing their broken roll up gate in Bronx. Sometime we get calls from people who tell us the following: My rolling gate got stuck, how much will it cost to fix it? And we answer to them the same way: If you will tell us how much it cost to fix a vehicle, we will tell you. Just like nobody can tell you what will be the price to repair a broken vehicle, since it can be many things, same for the gate, or for any kind of service. When the gate is stuck there are many potential reasons, that each one of them can be the reason why the gate isn't opening. It can be a broken garage door spring in Bronx, or broken roll up gate in Danbury CT, they need to be checked on the site in order to give a professional opinion.
BQE Garage Doors offer same day service in Bronx New York. It may be an emergency repair for a stuck rolling gate in Harlem, or installation for a new storefront gate, or you may think that you would like to motorize the roll down gate. Whatever service you may need, we can help. Contact us for same day service.
Shop Gate Repairs Bronx New York
Same Day Service: 917-809-9328
For same day repair in Bronx New York, Call: 917-809-9328
Our Storefront Gate Services in Bronx
Storefront gate repairs Bronx

Storefront gate installation Bronx

Bronx New York shop door repair

Emergency store gate repairs Bronx

Storefront gate spring Bronx

Store door technician Bronx
BQE Garage Doors can repair any broken garage door in Bronx New York today!
About the author